Rise
Make The Connection Today
The Rise team is ready to help you take the next steps. One phone call is all it takes.
Other Support Numbers
Here is a list of other organisations who may be able to help you.
Crisis Care is a telephone information and counselling service for people in crisis needing urgent help.
This directory contains a list of services that provide accommodation, referral, food, clothing and assistance with finding accommodation.
A specialist after hours mental health telephone service for people in rural communities of Western Australia.
Free call - 1800 552 002
8.30am - 4.30pm Monday to Friday
24 hours Saturday, Sunday and Public Holidays. 
A nationwide service that provides professional 24/7 telephone and online counselling to people who are affected by suicide. 
Translating and Interpreting Services
If you need an interpreter, you can ask us to arrange one when you call or when you attend a meeting.
Alternatively, you can contact one of the services below and ask them to help.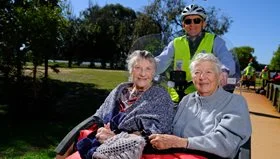 For people who need help with English
Office of Multicultural Industries (OMI):
For people with hearing or speech loss
Australian sign language (Auslan):
TeleType (TTY):
Speak and Listen:
Advocacy Services
Aged Care
Advocare is an independent, not-for-profit organisation supporting and protecting the rights of older people. 
Disability Support
People with Disabilities WA advocates for the rights and empowering the voices of people with disability in Western Australia.
Disability Support
Youth Affairs Council of WA is the peak non-government youth organisation in Western Australia. 
Contact us today.
We're here to support you.