Rise
Everyone Deserves to Feel Safe 
Kira House provides accommodation for young women who are leaving family and domestic violence. It's open 24 hour a day, 7 days a week and is available for women aged 14 – 18 with or without children.  
Our team support young women to prepare for the future so that they can achieve their goals. 
If you need immediate support, call Kira House on:  0408 895 613 . Further support numbers are provided below.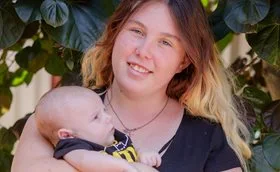 How Can We Help You?
Services offered to residents include:
Facilitated workshops, covering life skills, cooking, budgeting, self-care and what is a healthy relationship. 
Connecting individuals and families to other service providers. Rise works in collaboration with other organisations to support young women. This includes support with healthcare and housing. 
Parenting support to assist mums to strengthen their relationships with their children and promote positive child development.
These services enable individuals and families to build the skills and resources they need to succeed and thrive.
Support Phone Numbers 
 If you need urgent support, please contact:  
Crisis Care Help Line (08) 9223 1111 or 1800 199 008 -  Is available 24 hours a day for people needing urgent support.  
1800RESPECT /  1800 737 732 - This is a 24-hour national sexual assault, family and domestic violence counselling line for any Australian who has experienced, or is at risk of, family and domestic violence and/or sexual assault. 
Frequently Asked Questions
Young women aged 14 - 18, with or without children who are at risk of/or experiencing homelessness or family and domestic violence. 
Referrals can be made on  0408 895 613 or through supporting agencies such as the Department for Child Protection and Family Support and Crisis Care.
Young people can stay at Kira from a couple of days to three months. We also provide support to find transitional and long-term accommodation.
Kira House consists of 6 large bedrooms with ensuite bathrooms and baby changing facilities. Alongside a spacious double kitchen Kira House has two big communal living spaces, dining area, computer area and a 'child free' lounge area. There's also an outdoor dining and garden area. 
We support young people to achieve their best possible mental health and provide support with budgeting/ finances, parenting, education and training. Regular visits from external services such as Youth link, Samaritans and Centrelink allow for Kira House clients to receive firsthand, professional support in several areas. 
Kira House is a 24 hour, 7 days a week service with a member of staff present on site at all times. 
Contact us today.
We're here to support you.